The term "chauffeur service" lets you envision a serene and comfortable ride in a luxurious vehicle with a professional, discreet chauffeur. Serving several purposes, these chauffeurs, if hired from a trusted company, are not only courteous, groomed, and punctual, but they also arrive with the most sanitised and maintained vehicle to drop you at your destination. Be it a corporate event, a ceremony hall, a hotel for a memorable dinner or an airport to reach, these chauffeurs take their duties seriously.
Adhering to all the standard protocols, HR Carriages is a name of trusted chauffeur services in Mayfair, London, housing a fleet of world-known luxurious vehicles. We are 24/7 ready to accompany you on your travels. Hire us and let our skilled chauffeurs be your trusted partners for safe and comfortable rides.
Beyond Transportation
Our Jaguar chauffeur hire in London will be your next-level experience:
Ultimate Convenience: Convenience is our prime focus. Having our comfortable ride in a noiseless space allows you to relax and focus on your core activities without any disturbance.
Professionalism: Our well-trained chauffeurs strictly abide by all standards of professionalism. From the first moment of encountering to the last goodbye at the destination, they ensure that you remain satisfied with our service.
Efficient Time Management: We value each moment of yours; therefore, we are always on time to pick you up and drop you off at your location.
Symbol of Class: Our luxurious Jaguar XJ chauffeur hire services enable our esteemed clients to project their class in their business circle.
Cost-Effective: Apart from offering convenience, luxury and timely transportation, our chauffeur services are cost-effective with a range of travel amenities for our customers.
Zero Hassle: Our Jaguar chauffeur service eliminates the hassle of bearing messy traffic and navigating routes, saving effort and time.
An Emblem of Luxury & Convenience
At HR Carriages, we bear all the standards of luxury and convenience, ensuring your ultimate comfort during the ride:
We house a well-maintained fleet of premium cars, such as Bentley, Mercedes, and Range Rover – worldwide symbols of class and luxury.
Our Jaguar chauffeurs in London are highly skilled and professional, providing you with a delightful ride experience.
Our staff knows the local routes and smartly drives you to your destination within the agreed time.
Unlike conventional chauffeur services, our prices are affordable, with a guarantee of premium services.
Beyond local rides, we also provide private jet hire service, accompanying our respected clients in luxurious private jets for international destinations.
24/7 Luxury Services
Our Jaguar chauffeur services are your trusted partner around the clock. Whether you have to leave for a business meeting early at dawn or reach home late at night after a corporate event, say goodbye to your travel hassle. Our professional chauffeurs remain 24/7 vigilant to pick you up and drop you at your destination. Book our luxurious Jaguar XJ chauffeur car for hire and travel in your preferred timeslot.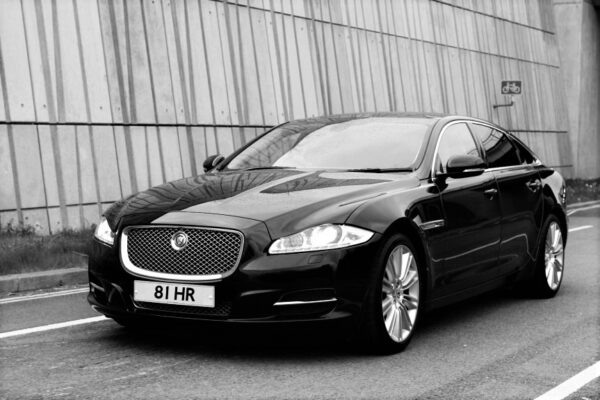 A Well-Maintained Fleet
We have acquired a range of luxurious vehicles, including cars, vans, and SUVs.
Rolls Royce Cullinan
Mercedes S Class
Bentley Mulsanne
Mercedes V Class
Range Rover Vogue LWB
Jaguar XJ V6