Mercedes S Class Chauffeur Hire
How Chauffeurs Are Different from Drivers?
Drivers are operators who have the responsibility of driving motor vehicles. While Mercedes S Class Chauffeurs not only drive the vehicle but also cater to your needs which can include providing security, making reservations and booking restaurants, and also running errands for you. so, hiring a chauffeur is like hiring a helper for yourself.
Who We Are?
We are a company that provides premier chauffeur car hire. We are based in London. we work with the aim to provide exceptional services to individual clients and corporate companies. When you hire our services then you don't have to worry about late arrivals, security issues, etc because our services are reliable, discreet, and arrive on time. Our fleet is hard to match including Mercedes Benz S-Class, Rolls Royce phantoms, Bentley Mulsanne, range rover sports, and many more. The most famous among all is our chauffeur driven Mercedes s-class car.
What Are Our Chauffeurs Like?
We provide chauffeurs who are very polite, but discreet and professional at the same time. They cater to all of your needs and will always exceed your expectations. They don't differentiate between clients and treat everyone equally whether you are a bride or a corporate executive.
If you are looking for the best Mercedes S Class Chauffeur Hire, then we are the right choice for you.
How Special Is Our Mercedes S Class Service?
Our chauffeur-driven Mercedes s-class car comes with premier chauffeur services. they are highly professional and guarantee you the best services. if you want to make your experience highly memorable then Mercedes chauffeur hire is the best option for you. our Mercedes S class chauffeur is fully dedicated to making your journey a pleasureful and comfortable experience.
Our S class Mercedes chauffeur service offers the following services
You will be welcomed with carpet light
Free WIFI will be provided to you
Touch screen tablets are provided to kill time or to use for business purposes
It's possible that you are back from working for hours or have a long flight ahead, so our massage seats will give you a message that will lighten your tiredness
Daily newspapers are updated every day
We provide sealed bottled water to keep you hydrated
There are TV screens installed in the car so you can kill time without getting bored.
We have a large luggage capacity so no matter whether you are going for a long vacation ahead or a short trip, you don't have to worry about luggage.
If you are with your friends you can have in-car entertainment and can celebrate an occasion or a fun night. Our Mercedes s class chauffeur car hire services are there to make the day best for you.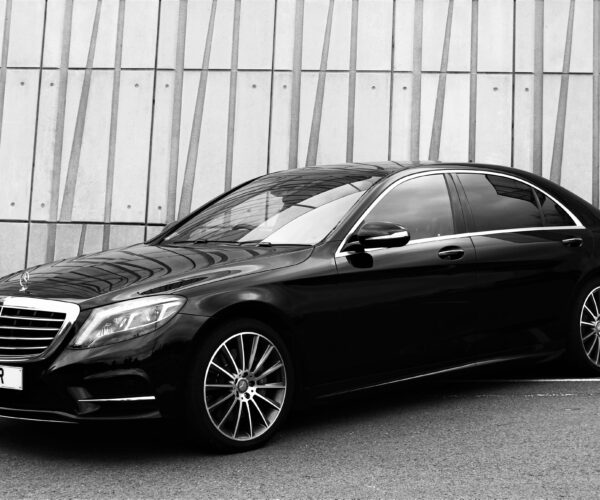 Make Your Occasion Memorable
Whether it's an important occasion in your life, an important business trip, or leisure travel, our Mercedes S Class Chauffeur Hire services will add to your experience. Not only our Mercedes s class hire services but also the chauffeur car will make sure that you travel with luxury.
Our Mercedes S Class chauffeur-driven car will pick you up to take you door to door and will take you anywhere around London.
Our whole Mercedes S Class Chauffeur Hire package is built keeping luxury services in mind. For which we offer only the finest cars and the best chauffeurs.
Space for the Whole Party
Our Mercedes S Class Chauffeur Car hire Services provide enough room to fit four people. Whether you have an executive business trip and events or you are a bride with bridesmaids, our Mercedes chauffeur hire car can easily accommodate four people.
Picture Perfect with the Panoramic Sunroof
There is excellent light quality in the car so you can take perfect pictures to capture the moment. The panoramic sunroof of our Mercedes chauffeur hire car will add to your experience as the good sunlight will make your mood fresh and pleasant.