Range Rover Chauffeur London
Our chauffeur driven Range Rover London Services
There is something special about chauffeur driven vehicles. They give a special feeling of importance, luxury, and class. Such services make you feel even more important if the vehicle is a famous one and is well maintained. Working on these principles, we are offering luxury transportation services such as airport transfer services, wedding day services, event services, and others. We have a fleet of luxury vehicles which you can choose from. These vehicles are driven by professional chauffeurs who ensure that all your requirements are met when you avail of our chauffeur driven Range Rover London. All our vehicles are maintained in strict compliance with safety standards while all our chauffeurs are licensed individuals.
Range Rover- A phenomenal SUV
The Range Rover is famous for its slick & smooth driving performance. Its introduction into the market in the 1970s revolutionized the 4 x 4 market. The SUV soon became a symbol of not just power but luxury. It has evolved into a modern, fully equipped, and phenomenal SUV over the years. Its signature extended wheelbase has redefined comfort and luxury. The smooth yet awe-inspiring exterior is matched by an equally aesthetic interior which is a testimony of master craftsmanship. The Range Rover LWB takes all of these incredible features to the next level.
It is the perfect SUV for any event. Be it airport transfers, or exclusive and executive events. Whether it is a business meeting you have to attend or you want it for your wedding day, our Range Rover Chauffeur Hire in London service will suit every occasion.
Airport transfers with comfort and class
Airport transfer services can come in handy when you are travelling by air. Whether your visit is a personal one or for a business meeting, arriving in a Range Rover is a class of its own. Our Range Rover Chauffeur in London for airport transfer includes:
Flight Monitoring
Guaranteed Punctuality
Safe, reliable, and clean vehicles.
Professional and friendly chauffeurs.
In-car WiFi and charging.
Bottled water
Celebrate your big day with style
Our Range Rover Chauffeur Hire London is the perfect way to celebrate your wedding. Make a grand entrance with our Range Rover LWB on your wedding day.
Ribbons: At your request, we will use wedding ribbons to decorate the vehicle for your special day.
Music: Choose your favourite wedding song or bring along your collection which you want to be played in the Range Rover.
Chauffeur: Your Range Rover chauffeur will especially dress up in a dark suit for your big day to make you feel extra special.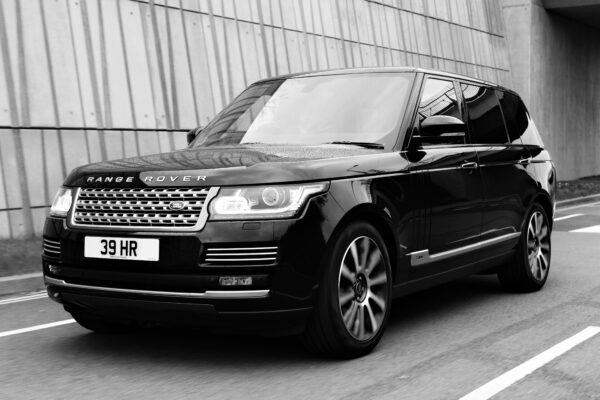 Make your presence felt at your business meetings
Hire our Range Rover Chauffeur London for your business/corporate meetings. Arrive in a chauffeur driven Range Rover LWB to cast a professional and commanding impression.
Punctuality: Business meetings cannot wait, our Range Rover Chauffeur London will make sure that you reach your meeting in time.
Newspaper & Entertainment: Read our complimentary daily newspaper in our Range Rover on your way to the meeting or watch TV.
WiFi: Connect to the internet and stay up to date with important information you require while you enjoy our Range Rover Chauffeur Hire London service.
Book us for any event
Whether it is your wedding, a musical event, your anniversary or your birthday, a sporting or a social event, a business engagement, or a personal one, we will get you there in time and style with our Range Rover Chauffeur Hire London services.
Several Reasons to choose our Range Rover Chauffeur London services:
Free WiFi for uninterrupted internet.
Bottled Water & Mints to quench your thirst and make you fresh.
Adequate Luggage Capacity for storing 2 large suitcases.
Comfortable Seating for you and your family.
Mobile phone multi-Charger
Licensed and professional chauffeurs.
All our vehicles are registered.
Avail of our services
Avail of our chauffeur driven range rover hire London service by calling us on our registered number. Talk to our representative in detail regarding the services you require.  You can also get in touch with us through our website.