Chauffeur Airport Transfers London
Luxurious and reliable Chauffeur Airport Transfers London is available at just a call.
Welcome to HR Carriages where we are driven by excellence and offer nothing less than it.
Our team of Chauffeur Airport Transfers in London works hard to render exceptional services to everyone. We understand the varying needs and challenges of each client and deal with them individually.
With an aim to deliver professionalism and perfectionism, we go above and beyond regular measures to ensure that you enjoy a luxurious Luxury Airport Transfer London service.
Tailored to your ultimate needs; HR Carriages promises you a smooth and magical experience.
Luxury Meets Convenience
HR Carriages brings you a wide range of transport solutions across London. Whether you need a simple airport transfer or you are looking for Luxury Airport Transfers London, we are here to be your best bet.
With a great track record in the transfer and chauffeur industry, we stand apart in business. Being one of the most trusted and reliable ones in the market; we assure you that we converge luxury and convenience at their best.
Our entire team has gone through standard training to ensure that our services never lack in quality and are always up to the required standards.
With Luxury Airport Transfer Hire London, you can book a chauffeur for any of the following occasions:
Airport transfers
Weddings
Business events and meetings
Social nights and events
Sightseeing tours
Artist tours
School proms
Shopping trips
Corporate events
We are not limited to Luxury Airport Transfer London only. Our team offers luxury and comfort for all occasions. Give us a call and make your booking now.
An Exhilarating Experience
HR Carriages is not just a luxury chauffeur service. We bring you a seamless and exhilarating experience.
Being one of the finest airport transfers London services, we take pride in our team and the efforts they make to render the best to everyone.
We aim to:
Make your travel easy and comfortable.
Ensure that you feel safe when traveling with us.
converge luxury and convenience to meet the higher standards for all.
Offer you a wide range of luxury vehicles, so that you can make a choice according to your preferences.
We have been in business for years now and we work dedicatedly to make Luxury Airport Transfers in London quick and easy to access.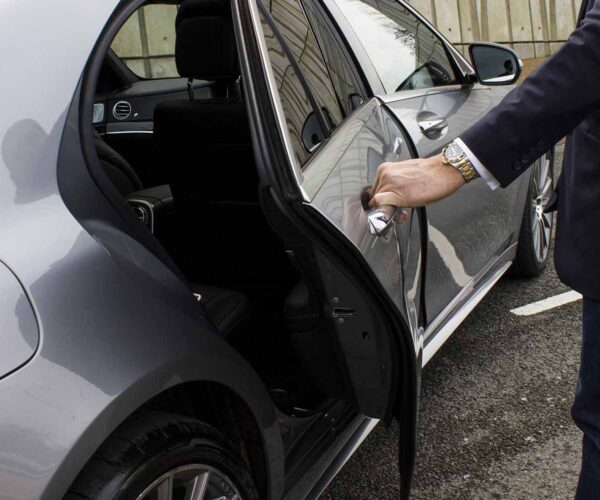 Wide Range of Vehicles
With our Chauffeur Airport Transfers in London, you get access to a wide range of vehicles to choose from.
We bring you a wide selection so that you can travel in style, according to your requirements.
From BMW to Mercedes and from Rolls Royce to Limousine; you name it and we have it here at HR Carriages. Being one of the best airport transfers London services, we have great prices, making sure that working with us, is as easy as a breeze for you.
Tailored to your Needs
HR Carriages has been in business for years now. Our knowledge and experience make us stand out. It helps us understand the varying needs of our clients. Thus, we tailor each experience.
With our executive airport transfers London services, you can make any changes that you want. We know that each client has their own needs and therefore, we personalize your experience, for you.
You can discuss your needs with our experts and they will create an airport transfer service London, just for you.
To make your booking, get in touch with us today. We are accessible via call and email. You can also come to visit us. Our team is fully-vaccinated.